Originally Posted: March 29, 2013

The original post is no longer available as Nickelodeon no longer has celebrity profiles or news postings.
The Supah Ninjas are always busy fighting bad guys on camera, but did you know there's another, even fiercer battle brewing behind the scenes of the show? Oh yes, there is a prank war being waged between the ninjas. And Carlos Knight told us all about it!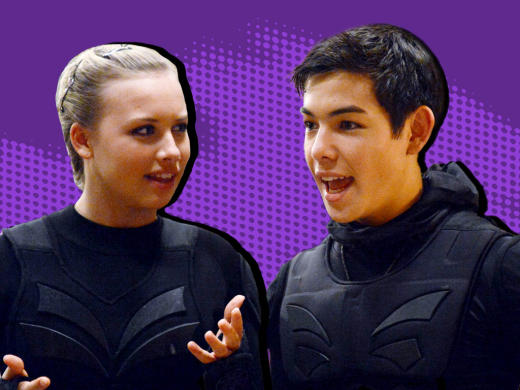 Carlos dished, "Ryan and Gracie have prank wars and I get to stand by and watch and laugh at them be scared and angry at each other all the time, so that's fun to do. It's a funny little adventure everyday cause we're always doing something crazy."
But it's not always ninja against ninja. Sometimes the set itself plays pranks on these guys! Carlos told us the tale of Ryan's slip-up, explaining, "We have a lot of craziness that happens. We were running through the high school set and I think they actually waxed the floor before we did it, so when we turned the corner and ran, Ryan slipped for like a good ten feet." Whoops!
Well, there you have it. It's all action and antics for these ninjas whether the cameras are rolling or not!