If you've seen out twitter before, you would know we've been heavily promoting Ryan's latest short film, STUCK, while also having uploaded the stills and other previews back in June to the gallery. We can now say that we have finally uploaded the screencaptures of the short to the gallery!
We will pre-warn you that we have specially marked the screencaptures that contain nudity that way there's no surprises. None of the nudity comes from Ryan, it's only the sex doll + the video playing in the background.
It's unconfirmed how truly long or short the film is, but it may just be the 3 minute visual essay submitted to AFI earlier this year.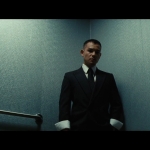 WATCH "STUCK" (2023) – VISUAL ESSAY BELOW!