Release Date: November 7th, 2014 (US)
Running Time: 1 Hour, 42 Minutes
Genre: Family, Animation, Action, Adventure
Character: Hiro Hamada (voice)
Directed By: Don Hall & Chris Williams
Screenplay By: Jordan Roberts, Robert Baird & Dan Gerson
Produced By: Roy Conli
Production Company: Walt Disney Animation Studios
Distributed By: Walt Disney Studios
Photo Archive // IMDb // iTunes // Amazon // Official Website
Film Synopsis
Hiro Hamada is a 14-year-old prodigy, a high school graduate, and robotics genius living in the futuristic city of San Fransokyo (a portmanteau of San Francisco and Tokyo, rendered in kanji as 奏京). He spends much of his free time participating in illegal robot fights. To redirect Hiro, his older brother Tadashi takes him to the research lab at the San Fransokyo Institute of Technology, where Hiro meets Tadashi's friends, Go Go, Wasabi, Honey Lemon, and Fred. Hiro also meets Professor Robert Callaghan, the head of the university's robotics program. Amazed, Hiro decides to apply to the university.
To enroll, he signs up for the school's showcase and presents his project: microbots, swarms of tiny robots that can link together in any arrangement imaginable using a neurocranial transmitter. At the fair, Hiro declines an offer from Alistair Krei, CEO of Krei Tech, to market the microbots, and Callaghan accepts him into the school. As the Hamada family leaves to celebrate Hiro's success, a massive fire suddenly breaks out in the showcase hall and Tadashi rushes in to save Callaghan, the only person left inside. The building explodes moments later.
Two weeks later, a depressed Hiro, mourning Tadashi's death, inadvertently activates Baymax, the inflatable healthcare robot that Tadashi created; the two find Hiro's only remaining microbot and follow it to an abandoned warehouse. There they discover that someone has been mass-producing the microbots. A man wearing a Kabuki mask attacks them with the microbot swarms. After they escape, Hiro suspects that the fire that claimed his brother may not have been accidental and in fact started by the man in the kabuki mask to cover the theft of the microbots. Seeking vengeance, Hiro equips Baymax with armor and a battle chip containing various karate moves and they track the masked man to the docks. Go Go, Wasabi, Honey Lemon, and Fred arrive, responding to a call from Baymax, and the masked man chases the group. The six escape to Fred's mansion, where they decide to form a high-tech superhero team to combat the villain.
The group tracks the masked man, whom they suspect to be Krei, to an abandoned Krei Tech laboratory that was used for teleportation research until a test pilot was lost in an accident. The masked man attacks, but the group subdues him and knocks off his mask, revealing him to be Callaghan, who shielded himself from the explosion that killed Tadashi. Enraged at the discovery that Tadashi had died in vain, Hiro removes Baymax's healthcare chip and orders him to kill Callaghan. Honey re-installs the healthcare chip at the last second, preventing Baymax from carrying out the kill order. Callaghan barely escapes, recovering the mask as he does so, and Hiro leaves with Baymax, intent on avenging Tadashi.
Back home, Hiro repairs the robot's damaged scanners and tries to remove the healthcare chip again, but Baymax blocks his access port, convincing Hiro with video of Tadashi running numerous tests during Baymax's development as a demonstration of Tadashi's benevolence and legacy. Hiro remorsefully apologizes to his friends, who reassure him they will catch Callaghan the right way.
Video footage from the laboratory accident reveals that the lost test pilot was Callaghan's daughter, Abigail, meaning that Callaghan is seeking revenge on Krei. Callaghan interrupts Krei at a public event and attempts to destroy his headquarters using Krei's teleportation portal. After a lengthy battle, the team deprives Callaghan of his microbots and the mask, saving Krei, but the portal remains active. Baymax detects Abigail alive inside and leaps into the portal with Hiro to rescue her. They find Abigail in hyper-sleep, but Baymax is struck by debris on the way back out, disabling his thrusters. With no other option but to sacrifice himself, Baymax activates his armor's rocket fist and asks Hiro if he is satisfied with his care in order to deactivate him. Hiro tearfully agrees and Baymax fires his rocket fist before deactivating, propelling Hiro and Abigail back through the portal before it closes. Abigail is taken to the hospital while Callaghan is arrested.
Some time later, Hiro discovers Baymax's health care chip clenched in the rocket fist. He rebuilds Baymax's body, who keeps his memories and emotions due to his health care chip, and he and Hiro share a hug. In this period, the six friends continue their exploits throughout the city. During the end credits, a series of newspaper headlines reveals that the university has awarded Hiro a grant and dedicated a building in Tadashi's honor, and that the team has continued protecting the city.
In a post-credits scene, Fred discovers a hidden cache of superhero equipment in his family mansion. His father (played by Stan Lee), a retired superhero, returns from vacation and says, "We have a lot to talk about."
Source: Wikipedia
Full Cast
Ryan Potter as Hiro Hamada
Scott Adsit as Baymax
Daniel Henney as Tadashi Hamada
TJ Miller as Fred
Jamie Chung as Go Go
Damon Wayans Jr as Wasabi
Genesis Rodriguez as Honey Lemon
Trailer
Photos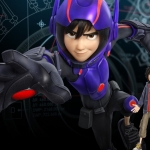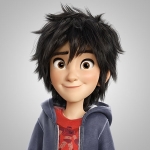 View more photos in our Photo Archive!
Film Trivia
This was Ryan's first voice-over project.
This is where Ryan really started gaining a huge fanbase for his accurate casting as Hiro.
Big Hero 6 was the first Marvel property to be released theatrically by Disney.
The film takes place in 2032 in San Fransokyo.
Hiro's nervous tic when he catches his reflection in the side of a building was actually derived from Ryan's own body language in the recording booth.
The clock in Hiro's room is at the time 2:15 the entire movie.
Hiro Hamada was born in 2018.
The "world" that the animators created is bigger than those of Tangled (2010), Wreck-It Ralph (2012), and Frozen (2013) combined.
Over 200 different signs were created for the advertisements of San Fransokyo.
This is the first Disney film to only show the title of the movie at the end and not the beginning.
When Hiro receives the video message from his friends on his computer, you can see a Nintendo 8-bit controller on the desk under the screen.
The words "Big Hero 6" are never spoken in the film.
The shirt Hiro is wearing bears an image of Baymax in his red battlesuit.
Source (for some Trivia): IMDb